As we celebrate the 30th anniversary of the iconic film Jurassic Park, it's a perfect time to dive into the world of remarkable memorabilia that captured the hearts of fans and collectors alike. Released in 1993, Jurassic Park revolutionized cinema and left an indelible mark on popular culture. From toys to house hold objects, here are 10 Jurassic Park memorabilia items that continue to captivate fans three decades later.
10. Jurassic Park sleeping bag
This iconic sleeping bag featured a design inspired by the film's logo and showcased a thrilling scene of a Dilophosaurus and Velociraptor. Perfect for sleepovers and camping adventures, it allowed fans to dream of prehistoric encounters while staying cozy and comfortable.
9. Limited Edition Jurassic Park VHS Box Set
The VHS box set of Jurassic Park is a collector's dream. This limited edition set included not only the film but also a Jurassic Park map, a hologram watch, security badge and dinosaur booklet. It embodies the excitement surrounding the movie's release and remains a prized possession for film enthusiasts.
8. Jurassic Park drinking glasses
This set of drinking glasses features iconic imagery from Jurassic Park, including the film's logo and stunning dinosaur illustrations. They were produced by French company Saint-Goblain in 1993.
7. Jurassic Park desk chair
This remarkable desk chair featured striking artwork of Velociraptors and T. rex from Jurassic Park. The detailed illustrations brought the fierce and captivating nature of these prehistoric creatures to life.
6. Jurassic Park Comics
To further expand the Jurassic Park universe, Topps Comics released a series of comic books based on the film. These comics delved into untold stories, expanded upon the film's events, and introduced new characters. They are a must-have for comic book enthusiasts and fans looking for additional Jurassic Park adventures.
5. Official Soundtrack on Cassette
The official soundtrack of Jurassic Park composed by John Williams is a masterpiece in itself. The cassette version of the soundtrack became a popular item, allowing fans to relive the magic of the film's music on their Walkmans and boomboxes.
4. Jurassic Park greeting cards
These unique wishing cards featured stunning artwork inspired by the world of Jurassic Park. From majestic dinosaurs to iconic scenes, the intricate designs captivated the imagination. Whether for birthdays, special occasions, or just to spread some Jurassic Park magic, these cards made for memorable and visually striking greetings.
3. Jurassic Park Raptor Guard Tranq Gun
This toy pump "shotgun" with suction cup darts comes with three dinosaur targets: a Triceratops, Velociraptor and T. rex.
2. Jurassic Park playsets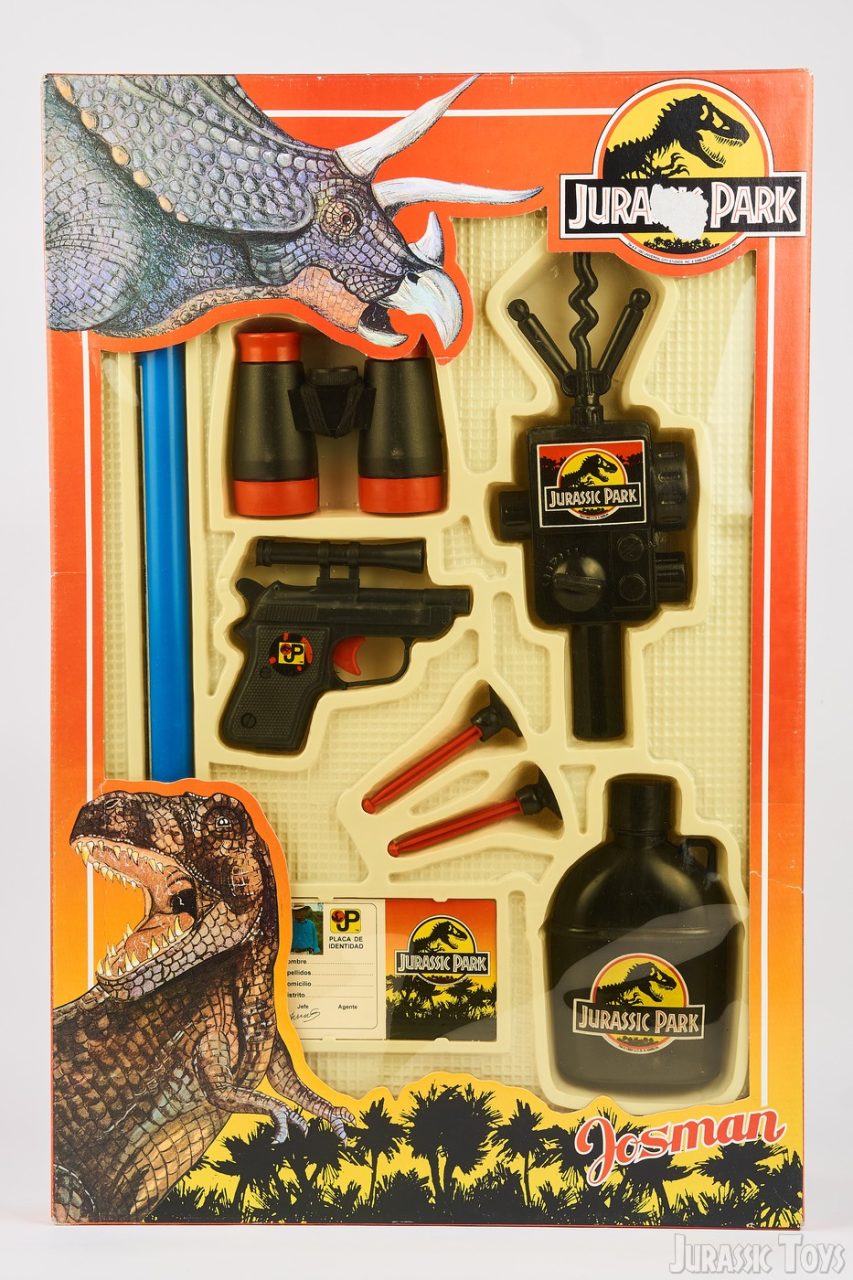 Josman is a Spanish toy company that makes mostly pretend play toys like costumes, play sets and tents. In the 80s and 90s these were based on popular franchises like Star Wars, Ghostbusters, Masters of the Universe, Teenage Mutant Ninja Turtles and many more. For Jurassic Park their line included two pretend play sets with binoculars, weapons, ID-cards, dart gun and more. These sets are very hard to find, especially outside of Europe.
1. Jurassic Park Dino World by Byggis
Byggis was a Swedish company that made LEGO-style toys based on a few franchises in the early 90s. These included Super Mario Bros, The Flinstones and Jurassic Park. For the latter they produced two large sets and several small dinosaur packs. The Byggis Jurassic Park sets are not easy to find, especially in mint condition.
As Jurassic Park celebrates its 30th anniversary, the remarkable memorabilia from 1993 stands as a testament to the film's lasting impact. From toys to house hold items and collectibles, these objects have become cherished possessions for fans and collectors alike. They not only represent the beloved characters and thrilling adventures of Jurassic Park but also evoke a sense of nostalgia and admiration for the groundbreaking film that started it all.